Introducing Your Next Product Line:
Custom Branded
Interested in standing out, marketing your brand in unique ways? Maybe looking for a new product line to launch in the next 3 months? WaterBears are a revolutionary new way to advertise your business, expand your company's product mix and enhance your customer's experience all at the same time. Our custom branded screen cleaners safely & conveniently clean any screen & are used and trusted by thousands worldwide.

VERTICALLY INTEGRATED
From inception to delivery, we're a one-stop shop to creating your custom Screen Cleaners.
MOQ: 100 Sets
Order 100 or 100k. We're equipped to handle your needs and requirements.
QUOTE IN 48 HOURS
Simply fill out the form, send us your logo & designs and we'll take care of the rest.
UNLIMITED PROOFS
We'll start production only when your screen cleaners + packaging are exactly what you want.
Your Branded Screen Cleaners Will Never Scratch Any Screen!
Our proprietary material easily and safely cleans your customers' screens while conveniently sticking to their devices!
Advertise Your Brand On Your Customer's Devices.
Use as Swag, Business Cards or Add-On Items!
Advertise Your Brand On Your Customer's Devices
Antimicrobial-Infused, Nano-
Carbon Synthetic Chamois
Polyamide Tri-Blend
How It Works
Unlike most cloths and sprays that cause streaks and scratches, our proprietary screen cleaners conveniently enhance your customer's lives by safely removing grime, smudges, oils, makeup and fingerprints from their screens without scratching, need of sprays or taking up space in their pocket.
But unlike traditional swag and product lines, your screens cleaners offer an entirely new way to market and advertise your brand... 100+ times a day.
On average, people check their phones once every seven minutes... Imagine they were seeing your brand 144 times a day...
It's a new way to advertise without competing in the noise!
Advertise for free that actually works!
Stand out + Add Value... Everytime!

Are you tired of t-shirts, hats, coffee mugs, canteens & pens as your only options for swag material? Trusting these outdated products add value to customers while effectively marketing your brand is not the answer and can result in mediorce results and wasted resources.  
Thankfully, there's a better way to enhance your customer's lives on the daily and effectively market your brand at the same time!
Your custom Screen Scleaners will not only be on brand but are made of the same carbon technology used by NASA1 to quickly and safely clean your customer's prescription glasses, camera lenses and screens. Plus, it's infused with an antimicrobial agent to remove unwanted bacteria while they clean.
100% SAFE FOR ALL LENSES & SCREENS
RECOMMENDED BY THOUSANDS!

Modern lenses & touchscreens have coatings that are easy to damage with improper cleaning. Damage that's permenant and upwards of hundreds of dollars to fix.
Our Screen Cleaners are trusted by photographers & eyeglass wearers to safely clean their glass without damaging their lenses. Their devices and screens will always be crystal clear, having peace of mind knowing they are 100% safe to use on any lens.
The Newest & Grooviest Way to Promote Your Brand + Increase Your Product Mix
Stand out & add value, expand your product mix and do so in a quick, easy and painless way.
Create new ad space for your brand on your customer's computers, tablets, phones and the touchscreen in their cars.
SWISS ARMY KNIFE OF A PRODUCT
Use them for swag, giveaways, in on-boarding kits or business cards.
Or go further as an add-on product to sell on your website, helping increase cart value at checkout.
We'll customize the Screen Cleaners & Packaging so everything's on brand, getting you a quote in under 48 hours.
Get Clean Screens In Just Seconds
Simply peel it off your device, wipe your screen and stick it back in place for immediate & convenient cleaning!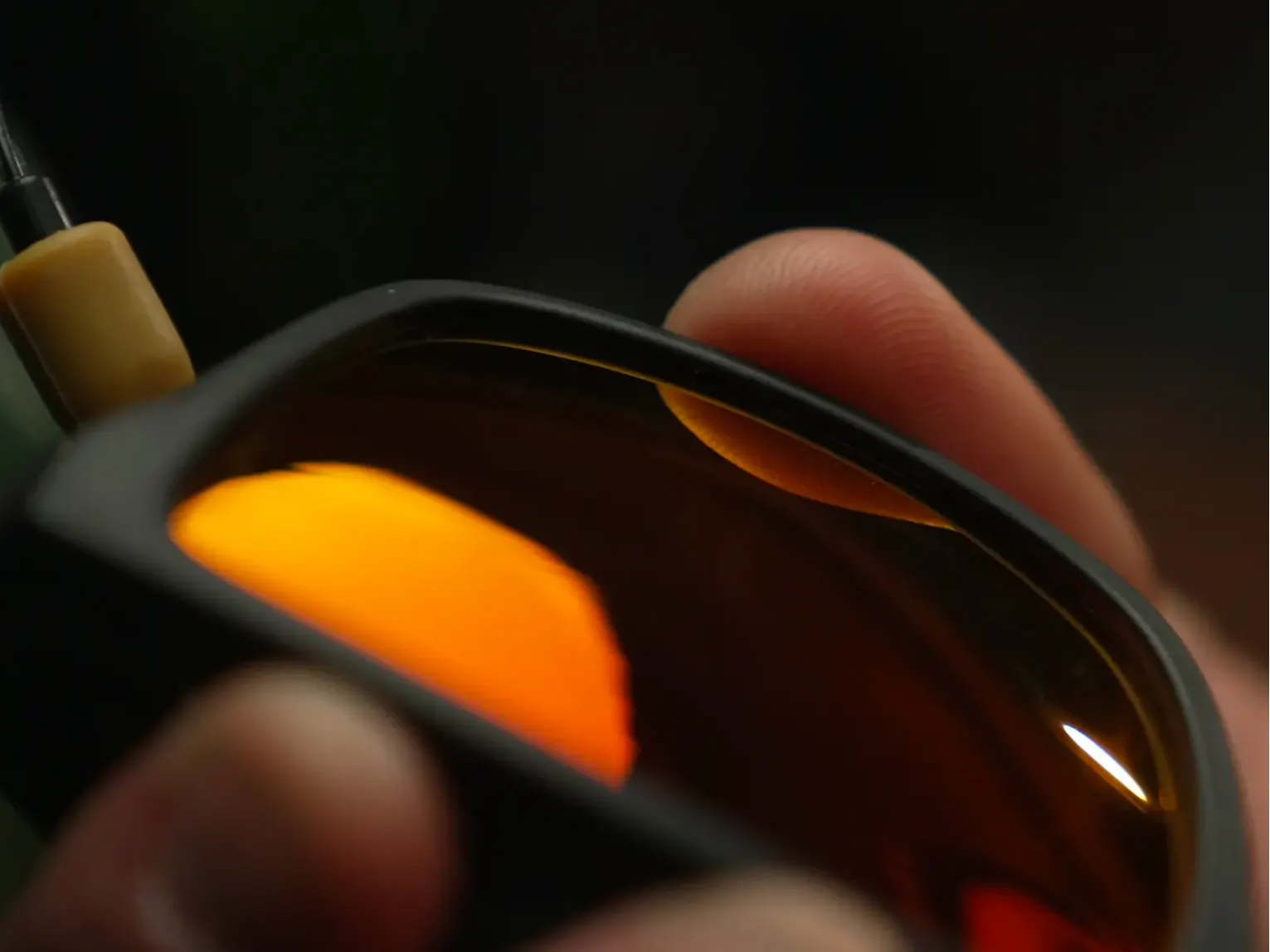 Enjoy Clean Screens & Glass, Always
WaterBear's silicone adhesive backing allows you to stick it to any surface, ready for cleaning at any moment.
Because of its proprietary blend and infused anti-microbial agent, it's safer to use and clean than any other standard cleaning cloth or wipe.
No need for instructions. Swirl, twirl, or clean in circles. All of them work.
Getting Started is as Easy as 1-2-3
STEP 1: FILL OUT FORM
STEP 2: PROOF DESIGNS
STEP 3: PLACE ORDER
Enjoy Convenience, Customization & Speed with Every Order
Simply fill out the form and we'll get cranking, providing a quote in 48 hours.
Tailor everything... from packaging & product, to fonts, typeface & logos... so everything is on brand.
Receive your entire order in as little as 28 days!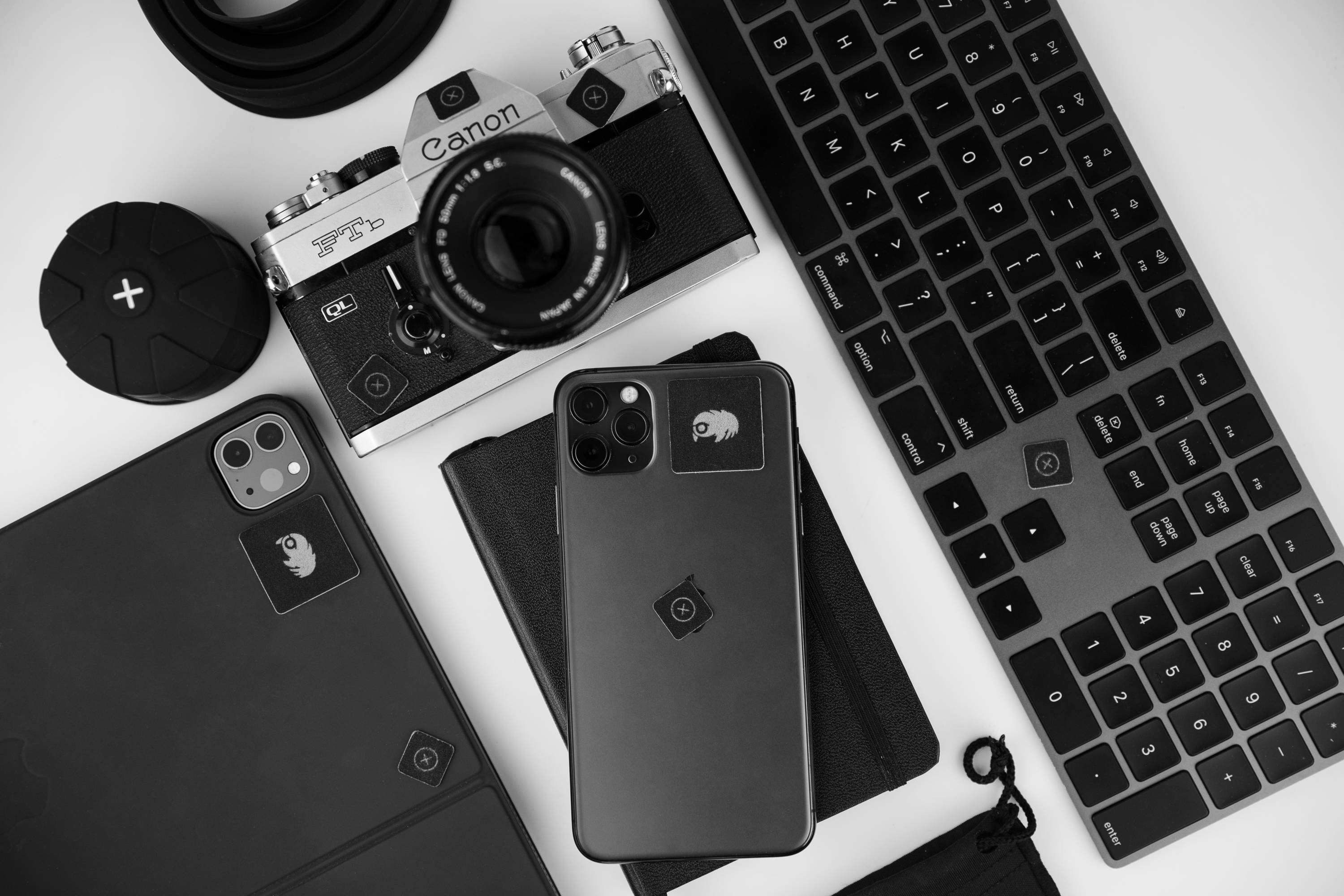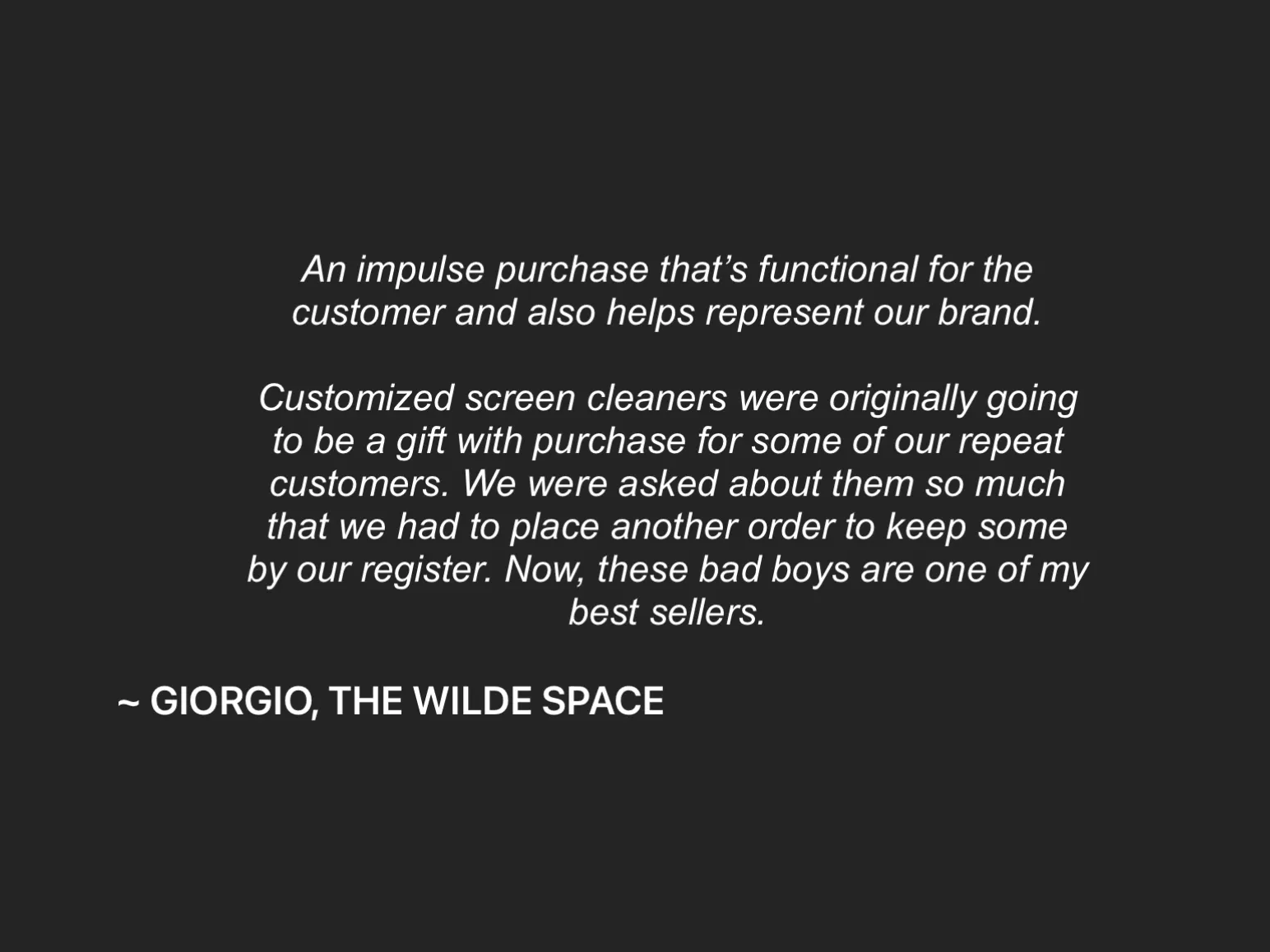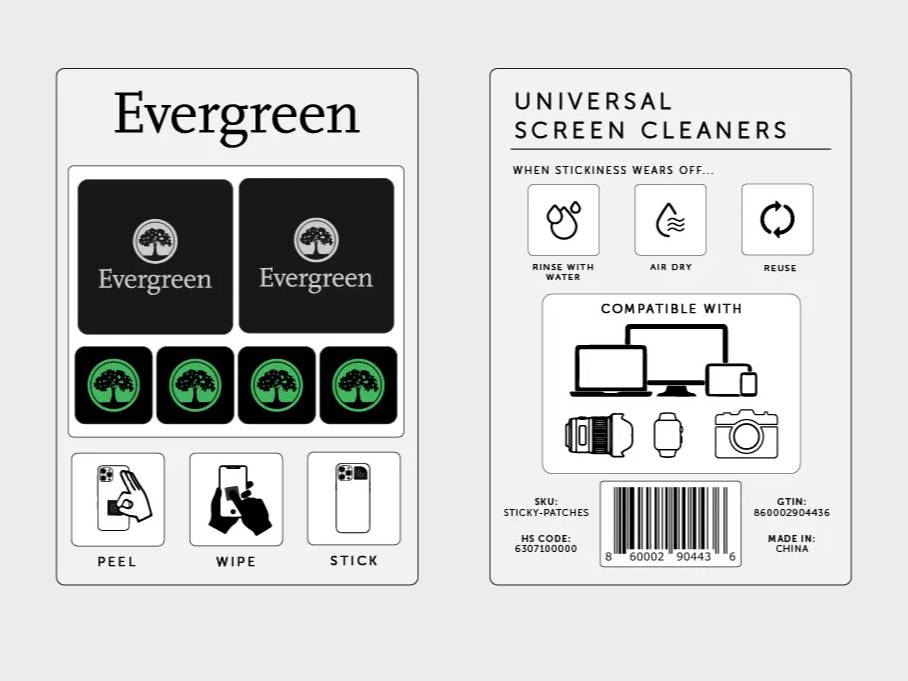 Packaging Dimensions (L*W; gsm):
10cm*7cm; 600gsm
Qty of Screen Cleaners:
2x Medium Patches (1" x 1")
4x Small Patches (.50" x .50")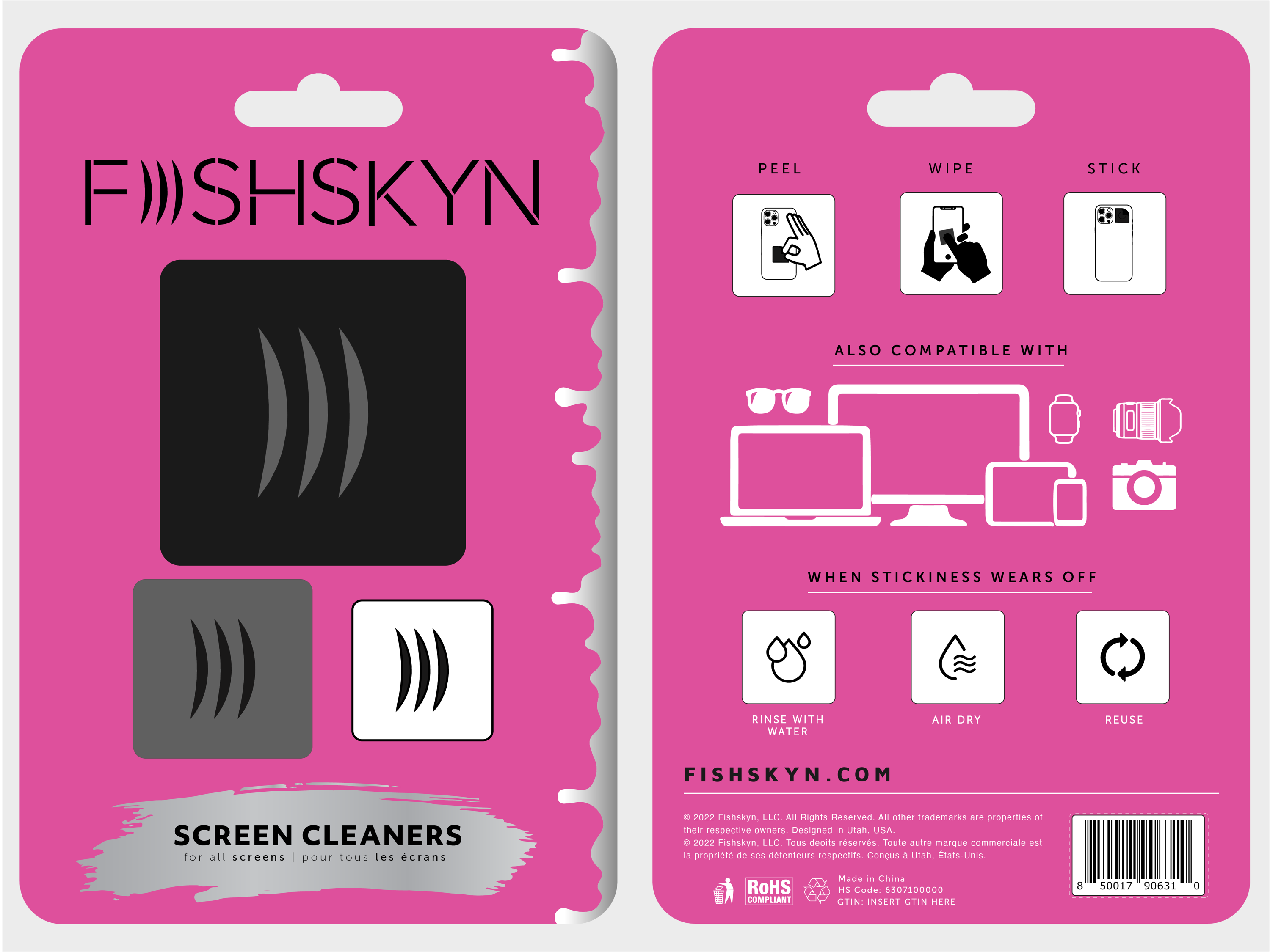 Packaging Dimensions (L*W; gsm):
15cm*10cm; 1200gsm
Qty of Screen Cleaners:
1x Large Pad (2" x 2")
2x Medium Patches (1" x 1")
Your Satisfaction Is Our Priority

We'll start production only when your screen cleaners + packaging are exactly what you want. Only after the green light, do we actually begin.
Our goal is to help brands better market themselves while adding value to their customer's lives. By making production convenient and easy for businesses, along with creating a new product line for their customers to enjoy, we feel we're achieving that mission.
If you have questions, concerns or just want to say hello, drop us a line at:
contact@kuvrdcamera.com
Simply Fill Out The Form to Receive Your Free Quote!

Simply Fill Out The Form to Receive Your Free Quote!

Have a question?
Click the button below.